CC01 Alu-Hooftrimmer in action
pictures in the practical environment
take a look while trimming the cow in the Alu-Hooftrimmer.
---
Model CC01 with aluminium fences
---
Alu-Hooftrimmer model CC01 Professional
Ergonomics for the cow and the hooftrimmer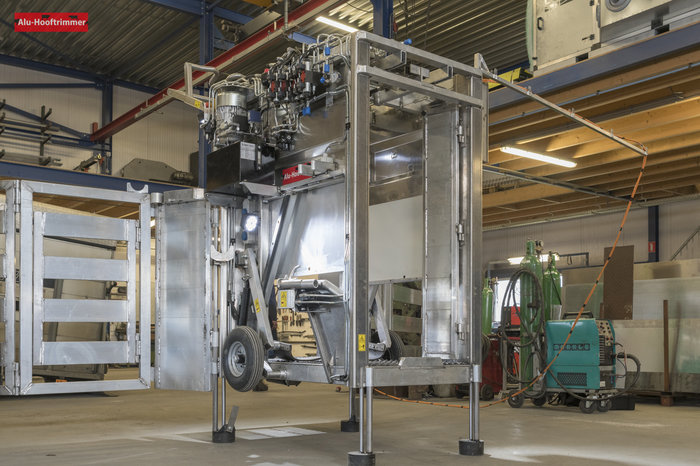 The CC01 is equipped with hydraulic functions for:
Front gate
Back bar
Front legs
Back legs
Elevator (35 cm)
Belly band
Comes standard equipped with:
Front leg holders with claw splitter
Alloy gates with doors (2,40 mtr)
Floor with rubber mattress
XL belly band
Hooks for front and back legs
Axle and/or transport wheel set depends on combination
Loading eye on top of crush
Cable reel for input 380V + 220V
220V output on both sides of the chute
1 year warranty on production failures and mistakes
With EU registration papers for number plate
CE approved
Specifications
Length: 205 cm
Width: 140 cm
Height: 211 cm
Weight: 710 kg
Available Options
Back leg fixation model CC02
Elevator 35 cm
LED lights around the crush
Remote control with 5 functions
W form on back bar
Different axle systems
Complete stainless steel box set
Contact us to talk about your requirements.
With a 380V or a 220V engine
CC01 or CC02 back side (see video for difference)
With an axle for towing behind a car (and EU numberplate registration)
Without an axle
With an axle with small wheels
contact us →
---
Features model CC01
There are a lot of features with the CC01, if you have any requests please let us know,
---
de Alu-Hooftrimmer CC01 with Albert Hofstra hooftrimmer
Take a look how Albert Hofstra professional hooftrimmer takes care of the cow in combination with the CC01 hydraulical crush.
contact →
---
3 Alu-Hooftrimmers instruction setup
This is a setup at a hooftrimmers workshop certification day.
Young professional hooftrimmers came together for a workshop instruction day, the Alu-Hooftrimmer in a 3 crushes setting worked perfectly for this event.
Need more information? Please contact us, →
---